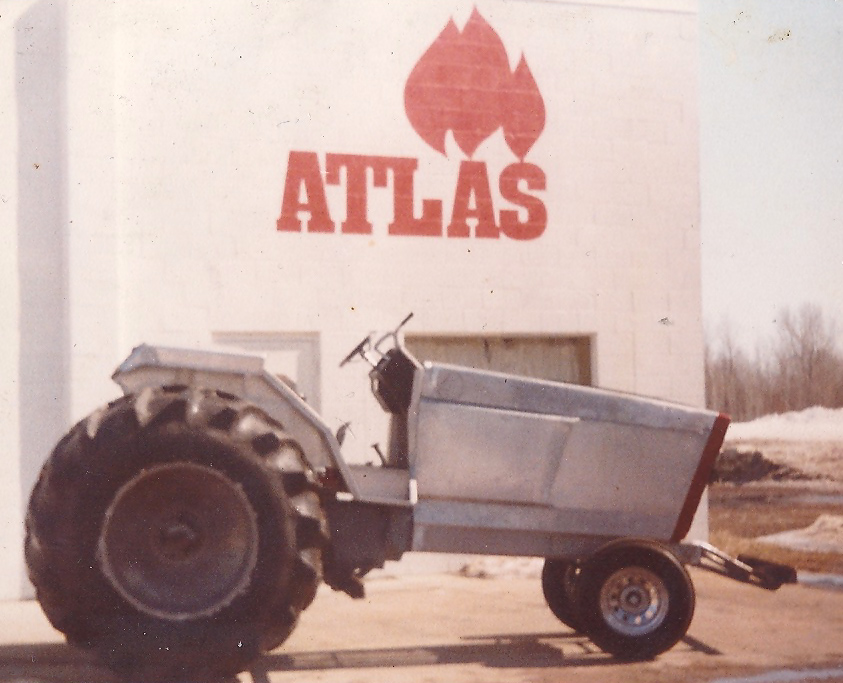 Welcome!
Welcome to the  Atlas Tractor website!  We are a leading producer of after market Ag components and this site was developed in an ongoing effort to provide up to date information regarding our products and services to our customers.  Thank you for looking!  We appreciate your visit.
About Atlas Tractor
Atlas Tractor was started by George Wepplo in the early nineteen seventies when two local pullers approached him to manufacture tractor parts.  After witnessing the impressive power of diesel engines George was hooked and decided to switch from building race cars to building tractor pulling parts.  Many years later Atlas Tractor is still a family owned, customer focused business that continues to improve upon existing designs and we are also constantly working toward developing new products for many different applications.  Through our commitment to innovation and design we are dedicated to providing superior quality parts and services at the best value.
Our Advantage is your Advantage
Our advantage is our years of experience and expertise in the design, development, quality and the machining of all of our products.  The advantage to you?  High quality precision made parts at a surprisingly low price compared to our competitors.
With our machining capabilities we are able to do many aspects of the part process in-house.  This allows us to pass the savings along to you.  YOU save money.
The Atlas Tractor Advantage–Simple principles with one goal in mind–helping you succeed
Understand –  We aim to understand exactly what it is you are wanting when you make a purchase with Atlas Tractor.  We will work closely with you to make sure that all of your questions are answered and also to ensure that all of your objectives will be met.  This will allow you to make decisions quickly and efficiently during the ordering process.  Your time is valuable to us.
Execute –  Once the decision is made to purchase from Atlas Tractor, we will work hard to make it happen.  We want your experience with us to be as seamless as possible and we will be there every step of the way to ensure that this happens.  Your passion is our passion.  We want to get you out doing what you love to do as soon as possible.
Quality – Atlas Tractor is committed to quality.  We are an SFI approved manufacturer and we have always taken great pride in meeting customer requirements regarding strict adherence to stated tolerances but it doesn't stop there.  We frequently go beyond the print and examine a parts function to ensure that the part will fit and function as it was intended to do.  Atlas Tractor is staffed with highly trained and experienced employees.  All quality assurance equipment it kept in top working condition and our employees are always working with great quality in mind. For these reasons, we maintain the highest level of quality with all of our customers.
Satisfaction – After earning your business, it becomes our top priority to maintain your business.  That means using good communication before and after your purchase to ensure that you get exactly what you want.  It also means providing you with high quality parts that you can rely on.  Your satisfaction is guaranteed.  If there is ever a problem, we will work quickly to remedy it .  From decision-making, to ordering, to delivery, to after-sale service, your satisfaction is very important to us.  Regardless of your need, you can count on Atlas Tractor to listen, to understand, and to provide the right products to you as soon as possible and on budget.